Fishing nets are the number one biggest threat to dolphins and porpoise worldwide.
Every year, thousands are accidentally captured and killed in the UK. Their mutilated bodies wash up dead on beaches, tangled in nets or missing fins and tails.
Current legislation means fishing boats under 12 metres do not need to monitor dolphin bycatch or do anything to try and limit their deaths. This means less than 1% of fishing days at sea using static nets are monitored by dedicated schemes.
AFD are working on finding a solution and have teamed up with leading researchers to try and organise a trial using LED lights to warn dolphins away from nets. 
These lights have been trialled successfully around the world, and could reduce dolphin bycatch by over 65%. And they don't just work with dolphins, they could also reduce turtle bycatch by 70% and seabird bycatch by 85%. 
Marine animals struggle to see nets underwater. The lights act as an alert, warning them to swim away.
The UK government has publicly stated it wants to be a world leader in environmentally responsible fisheries – and we want to hold them to it. 
That's why we've written to the Fisheries Minister, the Hob Robert Goodwill, urging him to support an LED light trial.
Have a read of our letter below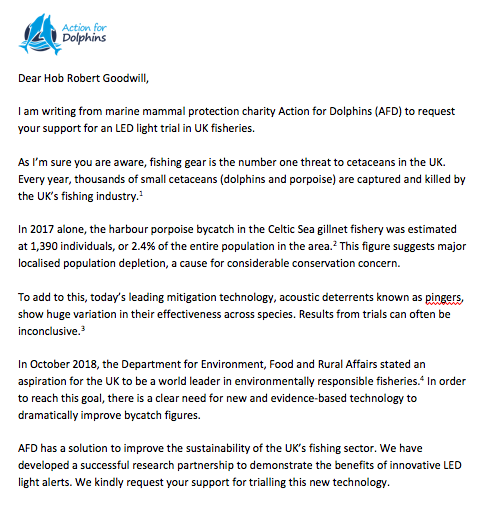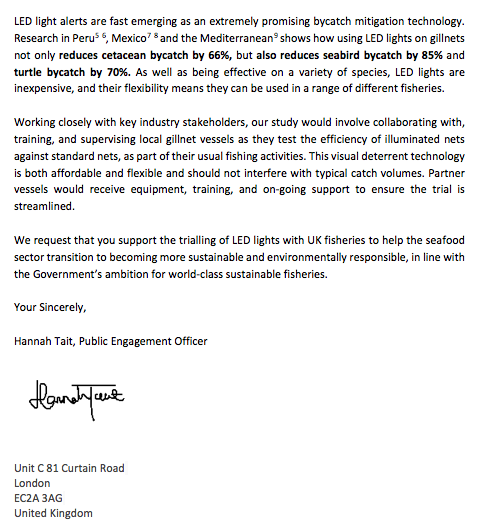 All marine life deserves safe passage through their ocean home, without being tangled in fishing gear.