As the year comes to a close, we want to say a massive thank you to everyone who stood up for dolphins by donating to our campaigns, posting and sharing on social media, and signing our petitions. 
You make the work we do possible, and we thank each and every one of you!
2021 has been a huge year for us here at AFD, and we cannot wait to bring about more positive change in 2022. 
Taiji Criminal Complaint
Following extensive preparation throughout 2021, this September we brought a world-first criminal complaint against the sale of toxic dolphin and whale meat to the Wakayama Prefectural Police Headquarters- the same prefecture where the infamous Taiji dolphin hunts take place. 
Our previous animal welfare pleas had fallen on deaf ears, but evidence of a public health risk is less likely to be ignored. Through mercury tests conducted in Japan, we found that meat samples sourced from the Taiji dolphin hunts contained 25 times more than the recommended level of mercury that is safe for human consumption. 
Ingesting high levels of mercury can have many adverse effects on human health, especially on neurological, reproductive, cardiovascular and immunological health. By consulting with Dr Russell Fielding, Assistant Professor at Coastal Carolina University, we were able to outline the risk to public safety that is caused by consuming dolphin and whale meat, and alert the public to these health risks.
By highlighting the negative effects of eating dolphin meat, we are calling on the Japanese Government to cease the sale of these products from supermarkets, restaurants and online. The laws regulating dolphin meat products will then have negative ramifications on the industry as a whole, making the dolphin hunts less economically viable. 
To highlight public demand for change, this November we also submitted over 111,000 signatures gathered through our Stop the Toxic Sale petition to Japan's Minister of Health, Labour and Welfare. We are now eagerly awaiting an official response.
As previous legal attempts to stop the hunts from an animal rights standpoint were dismissed, we decided to frame the issue from a public health standpoint. The consequences from this criminal complaint could ultimately help bring the Taiji dolphin slaughters to an end. 
Subscribe to our newsroom
Keep informed on the risks faced by dolphins and small whales, and the global efforts to protect them.
New South Wales Dolphin Sanctuary
Fighting Dolphin Captivity
This year we've continued to work on a feasibility study which would see the retirement of Jet, Bella and Zippy- the last three dolphins in captivity in NSW- to a sea-pen sanctuary in Coffs Harbour. The sanctuary could also help rescue and rehabilitate other stranded cetaceans on Australia's east coast. 
Our petition to the NSW Minister for Environment, and Treasurer, Matt Kean, received nearly 25,000 signatures. It was delivered to the Minister in October, and Animal Justice Party MP, Emma Hurst, brought a notice of motion in Parliament calling on the Minister to respond.
Government support is crucial at this stage of the feasibility study and sanctuary project – we continue to work with World Animal Protection and Dolphin Marine Conservation Park to lobby for government approval, and bring Zippy, Bella and Jet closer to a new ocean home.
We also had a historic win against captive dolphin breeding in March. In line with evidence presented by AFD, the NSW Government banned the breeding and importation of dolphins in the state. This was a huge win for the welfare of captive dolphins and sets a great example of what we hope to achieve in the rest of the country.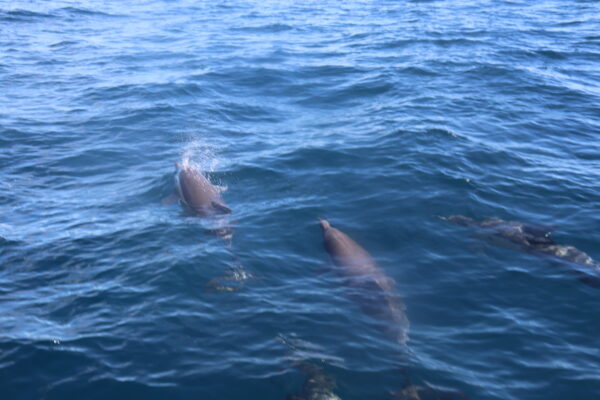 Raising awareness about the danger of hand feeding dolphins
In 2021, we launched a high-impact awareness campaign on Minjerribah (North Stradbroke) Island urging visitors to stop the illegal hand-feeding of wild dolphins. Hand-feeding endangers dolphins as they learn to beg and scavenge for food, which can cause boat collisions and fishing gear entanglements. 
Studies have also found that hand-feeding can lead to an increased risk of calves being exposed to diseases and an overall negative effect on ecosystem dynamics. 
Despite hand-feeding already being illegal, there had been numerous reports of it occurring on the island. AFD launched a widespread awareness campaign to ensure that visitors were aware of the dangers of hand-feeding and acted respectfully towards the island's unique marine life. We installed informative ads on Sealink ferries, distributed flyers at key tourism destinations and installed bus shelter ads alerting tourists to the detrimental effects of hand-feeding. Following this campaign, there have been no reports of hand-feeding on the island.
Subscribe to our newsroom
Keep informed on the risks faced by dolphins and small whales, and the global efforts to protect them.
#SayNoToTheNets
The generous support of our wonderful community made it possible to put up a giant mobile billboard revealing the true impact of destructive shark nets in the Gold Coast. We stationed the billboard at busy intersections, so Gold Coast locals and tourists couldn't miss our sign exposing the cruelty of deadly shark nets. 
In addition, we participated at the Noosa Marine Species Protection Symposium alongside stakeholders from multiple different sectors to submit the first ever local community group driven requests for removing lethal shark nets and trialling non-lethal alternatives in Queensland. 
Coming together as a community
Although the past year made meeting with supporters and physically coming together difficult, we still managed to unite and create positive change.
As part of the global Empty the Tanks movement in May, dozens of animal activists came together to raise awareness of the cruelty of animal captivity. Activists stood outside of Sea World on the Gold Coast and called for the exploitations of dolphins for entertainment purposes to stop.
Additionally, Action for Dolphins was thrilled to have been able to host a beach clean with our Victorian supporters for the 2021 Clean Up Australia Day! Here, we were able to clean up St Kilda beach and collect over 20kg of rubbish. Although this may seem like a small effort, we were able to collect hundreds of tiny but dangerous plastic nurdles from the beach, clean up the habitat of thousands of tiny penguins, and stop this trash going into the ocean and harming our aquatic wildlife. Small grassroots movements like this all help the bigger picture of looking after our environment and animals.
Thank you for everything you've helped achieve for marine life this year. We look forward to continuing to work with you to achieve even greater wins for dolphins and marine life in 2022!