Minjerribah, or North Stradbroke Island, is located on Queensland's coast and is well known for its scenic headlands, rolling surf and white sandy beaches. 
Many of the island's 375,000 yearly visitors are drawn by its precious marine life, their trip not complete without a visit to Amity Point to hand-feed the resident dolphins. But this practice is harmful and needs to stop.
Science shows providing food to wild dolphins is bad for their health, wellbeing and long-term survival. Even as far back as the early 90s it was known that hand-feeding wild dolphins puts their lives at risk.
A recent study found hand-fed females successfully weaned half as many calves as non-fed dolphins. Mothers were spending so much time receiving food from humans, they did not provide essential care for their calves.
Dolphins that are hand-fed associate humans with food and are therefore  more likely to beg, scavenge, patrol, and show aggression towards members of their own pod in competition or aggression towards humans. As dolphins are social animals and learn from each other, hand-feeding could put the entire pod in danger.
The current situation
Feeding wild dolphins is illegal in Australia under the 1998 Wildlife Conservation Notice, and those found breaking the law face fines of up to $10,000. 
Despite the legislation, tourists and local residents continue to put dolphin lives at risk at Amity Point on North Stradbroke Island. A quick search on social media finds hundreds of posts as people flout the law. The practice is so widespread some local businesses even market dolphin feeding on their websites.
To make matters worse, providing food to wild dolphins is disrespectful to the Quandamooka people, who consider the dolphin as the physical manifestation of a creator spirit. 
The current measures are not enough. After years of illegal feeding, Minjerribah's humpback dolphins have lost their fear. They freely approach humans, take bait off fishing lines, causing several dolphins to become entangled over recent years – it's only a matter of time until one of these encounters is fatal. 
Leading scientists have called for the state government to enforce the laws banning the feeding of dolphins, but this appeal has so far been ignored.
How we're helping 
Dolphin lives should NOT be put at risk for the benefits of tourists. Hand-feeding continues on North Stradbroke Island due to a lack of awareness, but we have a plan to change this. 
AFD is taking a stand for Minjerribah's dolphins with a new campaign to protect precious marine life. 
We've partnered with the Quandamooka Yoolooburrabee Aboriginal Corporation (QYAC) to educate visiting tourists about respecting wild dolphins. The campaign will include educational videos to show tourists on the ferry over, alongside signage and advertisements about negative impacts of hand-feeding dolphins.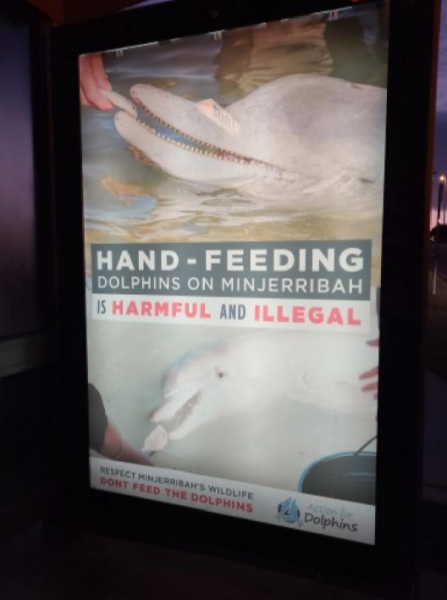 AFD recently received a grant from Canon Australia and LUSH to help put together visual content for the educational program – a huge thank you to Canon and LUSH for their support!
It's time to stop this harmful activity. Hand-feeding wild dolphins hurts.